Main Content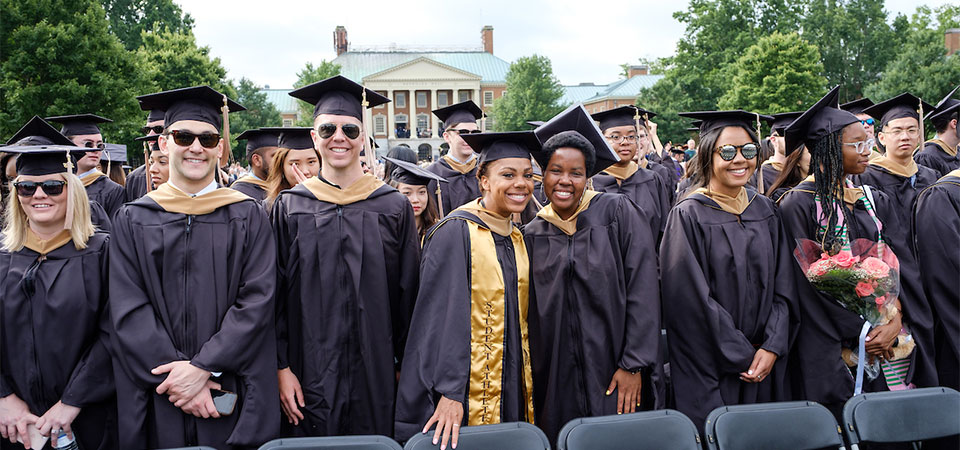 Path to Graduation
Check DegreeWorks in WIN to verify progress toward graduation requirements.
Contact the Office of the University Registrar with any questions about status.
Schedule your exit interview with Financial Aid, if applicable.
Informational emails from the Office of the University Registrar are sent as the graduation ceremony approaches. Read these carefully and respond appropriately.
Pay fines or other financial debts on your student account by Friday, May 8, 2020 so your diploma can be released to you.
Apply for your alumni email address that will move with you wherever you go.
Latin Honors
Latin Honors are determined after final grades for the Spring semester have been received. Distinction levels are: cum laude 3.4, magna cum laude 3.6, summa cum laude 3.8.
Diplomas
The Office of the University Registrar orders diplomas following the Virtual Degree Conferring so that Latin Honors and any late major changes are properly reflected on the diploma. Each graduate's diploma is mailed to the address specified on the application for graduation. The diploma includes the graduate's full name, degree, and major(s) as well as departmental honors and academic distinctions (cum laude, magna cum laude, and summa cum laude) as applicable.
When completing the application for graduation, students are asked to enter the address for mailing the diploma. Care should be taken that someone will be at this address during the summer when the diploma arrives. Diplomas are 11×14 and are printed on high-quality parchment.
If you have not received your diploma in the mail by the end of August, contact the Office of the University Registrar to confirm your address. All dates are subject to change given the current environment.
Cap and Gowns
Please check the Herff Jones website for more information regarding delivery times and availability.
Undergraduates can order cap, gown, stole and "2020" tassel through the Herff Jones website. If you would like to have your cap and gown for the Virtual Degree Conferring on May 18, 2020, please place your order by April 24, 2020.
Regalia for Graduate and Professional School degree candidates will be coordinated through those schools and programs.
Announcements & Rings
Herff Jones is Wake Forest University's official vendor for graduation announcements and rings.
The Howler Student Yearbook
The Howler is the Wake Forest University student yearbook. The yearbook documents campus organizations, events, athletics, academic departments, and students on a yearly basis.
How to Purchase a Yearbook
Enter 13941 in the box under "Order Number" and click Continue
Click on "Buy a Yearbook, Yearbook Packages, & Other Cool Stuff"
Enter your desired quantities and click "Continue Your Order"
Fill out all required information.
Continue to checkout!
All orders are placed directly with The Yearbook Order Center. For ordering help or delivery questions, please contact The Yearbook Order Center by phone at 866.287.3096 or by email at yearbookordercenter@nullherffjones.com.
April 30 Update
Virtual Conferring of Degrees
As you know, out of necessity, this year's commencement will look different than our traditional commencement festivities. We will have two parts to our celebration of the Class of 2020.