Main Content
When is Commencement?
Graduation exercises take place annually on the third Monday in May at 9 a.m. on Hearn Plaza. (Rain plan: LJVM Coliseum at 9:30 a.m.)
What are the dates of future Commencement Ceremonies?
May 17, 2021
May 16, 2022
May 15, 2023
Who is eligible to participate in Commencement?
Degree candidates who have met all academic requirements and who have properly applied for graduation for May 2020 are eligible to participate. August 2019 and December 2019 graduates are also welcome and encouraged to participate in the annual Commencement exercises, please notify the registrar if you intend to participate.
What are the academic requirements to graduate?
Degree requirements are listed in the Academic Bulletins and are reflected in the online Degree Evaluation. Each degree candidate must review his/her degree evaluation in WIN to determine if any degree, major, minor or concentration requirements have not been fulfilled. If any requirements are listed as unmet, the degree candidate must reconcile these deficiencies in order to remain listed as a degree candidate. Questions concerning unmet requirements can be addressed in the Office of the University Registrar, 110 Reynolda Hall.
Are May graduates required to participate in the graduation exercises?
Yes. Undergraduates who wish to graduate in absentia must notify the Office of the University Registrar either by email (registrar@nullwfu.edu) or in person (110 Reynolda Hall). Postgraduates must obtain permission from their school's dean.
Does Wake Forest University hold additional graduation exercises during the year?
No. Wake Forest University graduation exercises are held only in May. Students who fulfill graduation requirements in August or December can participate in graduation exercises the following May. Students who complete their degree program before the spring semester (August and December graduates) must speak with the registrar to confirm their eligibility and express their intent to walk in the annual Commencement Ceremony.
If I won't fulfill my graduation requirements until the summer, can I still participate in the graduation exercises with my class in May?
A degree candidate who is within eight semester hours of completing all degree, major, minor, and concentration requirements may ask to be allowed to participate in the ceremony but not graduate. Contact the Office of the University Registrar for details.
What if I applied to graduate but it has been determined that I do not meet the necessary requirements?
Notify the Office of the University Registrar immediately by email (registrar@nullwfu.edu) or in person (110 Reynolda Hall). Apply for graduation for the date (August, December or May) when requirements will have been met.
What are the first steps a student must take to graduate?
Apply to graduate by the November 30 deadline.
Review your Degree Evaluation on WIN to confirm that all degree requirements have been met. If any requirements are unmet, degree candidates must contact the Office of the University Registrar immediately. Completion of this step before the start of the final semester will help resolve any discrepancies.
Verify all information on WIN, including your full name, address and your home address.
Check your wfu.edu email regularly for informational mailings from the Office of the University Registrar, the academic administrators of your School, your department, and the Student Financial Services Office. Although you will receive frequent communications, it's important that you read each and follow all directions.
For more information, see the Checklist for Graduating Students.
Where do I order graduation announcements, cap & gown, class ring and diploma frame?
Students can place orders for these items at the Grad Fair being held on March 20 and 21 in the Green Room, Reynolda Hall. More information.
Where should graduates and guests park during Commencement Weekend?
Is there a rehearsal and where should students line up for Baccalaureate and Commencement?
There is no rehearsal for either ceremony. Students will line up in designated areas based on degree earned. Faculty Marshals and University staff will provide instructions. For Baccalaureate, students processing in cap and gown should assemble at 8:00 a.m. BA graduates will assemble in front of the Deacon Shop. BS and all other graduates will assemble in front of Subway. For Commencement, graduates should assemble in cap and gown no later than 8:00 a.m. according to degree group and at the direction of the Faculty Marshals.
Bag check information
As part of Wake Forest's security measures for Commencement weekend events, all bags brought into Baccalaureate, hooding ceremonies, and Commencement will be checked.
The bag checks are intended to enhance the University's comprehensive efforts to ensure a safe and secure setting for Commencement weekend activities.  The practice of checking bags at such events is being introduced at an increasing number of colleges and universities nationwide.
Wake Forest is encouraging guests not to bring a bag, if possible, to Baccalaureate, the hooding ceremonies, and Commencement.  Anyone bringing any kind of bag will have their bag checked before entering the venues for those events.
During Commencement weekend, the bag checks will begin on Saturday, May 16, at hooding ceremonies in Wait Chapel. Bags will be checked outside Wait Chapel's entrance.
Bag checks outside Wait Chapel's entrance will continue on Sunday, May 17, for the 9 a.m. Baccalaureate service and the hooding ceremonies that take place later in the day.
On Monday, May 18, bag checks will be conducted at all entrances to Hearn Plaza.  The checks will begin at 6 a.m.  Commencement is scheduled to begin at 9 a.m.
Such checks during Commencement weekend will assist the University in preventing numerous prohibited items from being brought to the Baccalaureate, hooding ceremonies, and Commencement.  Prohibited items include tripods, alcohol, pocket knives and other weapons of any kind.  The list also includes signs on sticks, suitcases and pets.
Bag checks will be conducted at LJVM Coliseum if the University were to implement the Commencement rain plan and move commencement on Monday to the coliseum.
Please factor in time for bag checks as you make plans to travel to campus for Commencement weekend events.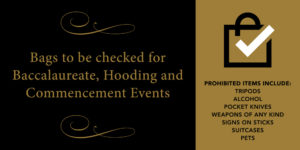 What is the rain plan for Baccalaureate and Commencement?
Rain will not affect the Baccalaureate service, although in inclement weather, faculty and students will line up for the processional under covered areas as much as possible. Also, rain could prevent the simulcast on Hearn Plaza. The rain location for the Baccalaureate is Reynolda Hall Cafeteria. Commencement Day Severe Weather Plan.
How do I know if I am graduating with honors?
Latin Honors are determined after final grades for the Spring semester have been received. Distinction levels are: cum laude 3.4, magna cum laude 3.6, summa cum laude 3.8.
At Baccalaureate or Commencement, may I wear regalia from a club or organization to the ceremony or decorate my cap?
All participating graduates must wear the appropriate cap, gown, and tassel for your degree and, if applicable, the designed hood for your graduate or professional school.
The use of personalized regalia, décor, sashes, cords and/or caps is not expressly prohibited.  However, it is not the norm at the University Commencement Ceremony where graduates have historically dressed in similar fashion.
Because we would not want any graduate to unexpectedly feel out of place while celebrating, please contact the designated official for your school or College with any questions about proper regalia or dress for a specific hooding, honors or awards ceremony.
How do I contribute to the Senior Class Campaign?
Gifts to the Senior Class Campaign go to The Wake Forest Fund, which provides unrestricted annual support to the University, allowing your gift to be used where the need is greatest. For more information, call 336.758.5824.
Which events require tickets and are there limited quantities?
Ceremony and meal tickets are available online in March and must all be ordered together using a single online registration form. At no time will a graduate be denied the maximum number of tickets. Tickets are non-refundable.  More ticket information.
Can graduates get more than the allotted number of tickets to Baccalaureate and Commencement?
Students needing additional tickets will have an opportunity to sign up for a ticket pool.
Do children who sit on someone's lap need a ticket?
Yes.
What is the appropriate dress for the weekend?
Family members and other guests are encouraged to dress comfortably for the weekend, taking the weather conditions into account. Most guests dress in business attire for the Baccalaureate service and the Commencement exercises, but there is typically a wide range of attire for those ceremonies. Shoes appropriate for walking in grass are recommended. Graduates wear cap and gown for both ceremonies. The tassel is worn on the right side of the mortarboard until the student is awarded a degree. Graduates, except those wearing hoods, are not permitted to wear any adornment other than the plain black robe. Male graduates should be aware that the collar of the robe is wide enough to reveal a shirt collar and tie.