Main Content
What time do the quad entrances open?
All entrances to the quad will open at 6 a.m. You must have a Commencement ticket or Wake Forest ID to enter the quad.
Bags check information
As part of Wake Forest's security measures for Commencement weekend events, all bags brought into Baccalaureate, hooding ceremonies, and Commencement will be checked.
The bag checks are intended to enhance the University's comprehensive efforts to ensure a safe and secure setting for Commencement weekend activities.  The practice of checking bags at such events is being introduced at an increasing number of colleges and universities nationwide.
Wake Forest is encouraging guests not to bring a bag, if possible, to Baccalaureate, the hooding ceremonies, and Commencement.  Anyone bringing any kind of bag will have their bag checked before entering the venues for those events.
During Commencement weekend, the bag checks will begin on Saturday, May 18, at hooding ceremonies in Wait Chapel. Bags will be checked outside Wait Chapel's entrance.
Bag checks outside Wait Chapel's entrance will continue on Sunday, May 17, for the 9 a.m. Baccalaureate service and the hooding ceremonies that take place later in the day.
On Monday, May 19, bag checks will be conducted at all entrances to Hearn Plaza.  The checks will begin at 6 a.m.  Commencement is scheduled to begin at 9 a.m.
Such checks during Commencement weekend will assist the University in preventing numerous prohibited items from being brought to the Baccalaureate, hooding ceremonies, and Commencement.  Prohibited items include tripods, noisemakers, alcohol, pocket knives and other weapons of any kind.  The list also includes signs on sticks, suitcases and pets.
Bag checks will be conducted at LJVM Coliseum if the University were to implement the Commencement rain plan and move commencement on Monday to the coliseum.
Please factor in time for bag checks as you make plans to travel to campus for Commencement weekend events.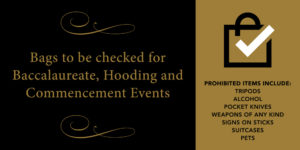 When and where is the Commencement breakfast?
The Commencement Breakfast is 6:30 – 8:30 a.m. in Reynolda Hall Cafeteria. Breakfast tickets for graduates and guests must be purchased in advance. Preview the Commencement Breakfast Buffet menu here.
Aside from the breakfast in Reynolda Hall Cafeteria, will there be food and drinks available on Hearn Plaza on Commencement morning?
A variety of food and beverages will be available for purchase on Hearn Plaza, and coffee and tea will be sold in the Bookstore.
Where do graduating students line up for the processional?
Printed assembly instructions are distributed at the Grad Fair in March and at ticket pickup during Commencement Weekend. Graduates should assemble in cap and gown no later than 8:00 a.m. with the appropriate degree group.
Does the University make accommodations for guests with disabilities?
Yes. A Special Needs parking lot will be available off Long Drive. Wheelchair accessible shuttles will run continuously from the Special Needs lot to Hearn Plaza for those guests and their families. A Special Needs parking pass can be requested at ticket pickup. To receive the pass, the parent or graduate will need to exchange one of the two general parking passes already included in the ticket order for one Special Needs pass. A form will need to be signed indicating that the pass has been provided to the parent or graduate. A Special Needs seating area for Commencement will be located in front of Zick's near the crosswalk that bisects Hearn Plaza. Because seating is limited in the Special Needs section, we ask that only one other guest sit with the Special Needs guest. More information.
Where am I allowed to park on campus on Commencement Day?
On-campus parking will be limited; every car (including students' cars) must have a parking pass to enter campus on Monday morning.   Additional free parking will be available at Bridger Field House. No pass is needed and shuttles run continuously to and from campus beginning at 6:00 a.m. Either a Commencement ticket or a Wake Forest ID is required to ride the shuttle.
What happens if it rains?
Severe weather plan information.
How long is the Commencement ceremony?
Commencement exercises last approximately two hours and forty-five minutes.
How many people are expected on Hearn Plaza for graduation?
Typically, 13,000 to 15,000 attend the exercises.
Will a DVD of Commencement be available?
Yes. A two-disc DVD of the entire Graduation ceremony can be purchased in advance using the online ticket registration page. You can order the DVD set after online registration closes by contacting Epic Video directly at 336.924.8778 or epicvideo@nullwindstream.net.  There will also be a live webcast beginning at 8:45 a.m. Monday, May 19.
Will there be a professional photographing graduates on stage?
A professional will photograph each graduate of the School of Arts and Sciences as he or she crosses the stage during commencement. More information.
Can guests bring cameras?
Yes, but for their own safety and for the courtesy of others, guests may not take photos from the platform. The use of a personal handheld video camera will be allowed only if it does not obstruct the view of other guests. More information.
Is there space for private receptions during Commencement Weekend?
Rooms for private events are available at Graylyn International Conference Center (www.graylyn.com or 336.758.2600) and at area hotels.