Main Content
Family & Guest Information
The Commencement ceremony lasts approximately three hours and is held outdoors on Hearn Plaza. Temperatures in May can vary widely, so check the local weather forecast.
Arrive early. Due to security measures, there may be lines to enter Hearn Plaza. Please limit the number of items you bring; all bags will be searched before entering Hearn plaza. If you leave the plaza with your bag, it will be re-checked on your way back in. We recommend leaving bags in your car trunks if possible, limiting bags on the quad and leaving your bag with a family member if you must exit the quad and plan to return. Coolers are not allowed; water and other beverages will be available. In addition to coolers, the following items will not be allowed on Hearn Plaza: Pets, noisemakers, tripods, suitcases, signs on sticks or poles, alcohol, pocket knives or weapons of any kind. Smoking is prohibited on Hearn Plaza. Collapsible strollers only. We reserve the right to remove any item hindering the view/experience of others.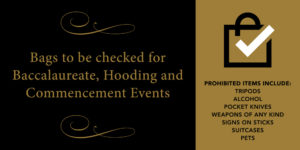 Restrooms will be available in Benson University Center, Reynolda (but not on the second floor) and Wingate Halls. The Benson Center facilities are wheelchair accessible. Executive portable bathrooms will be available in the parking lots on either side of Wait Chapel.
During the ceremony, the center aisle and the platform will be closed to all except those in the processional. Please observe the rope barricades.