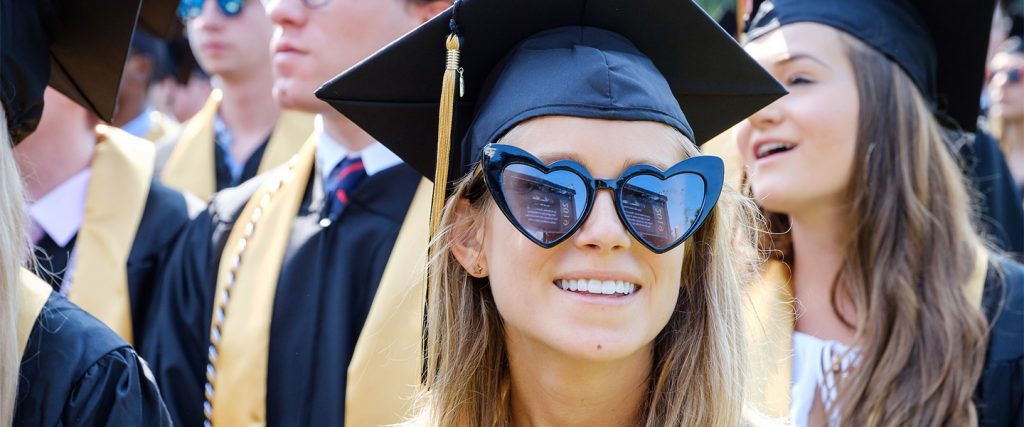 Your March Checklist
Commencement Regalia
Now is the time! Use the link on the right to place your order now for your cap and gown. Regalia can often take four weeks to arrive, and delays are expected as we approach May.
Tickets
Discuss commencement weekend ticket needs with your family members and determine the final number of tickets you will need.
Check your WFU email
An email was sent on March 1 to each graduating students' WFU email account that explains the ticket reservation process. Reserve your tickets as soon as possible.
What do I do next?
After an order has been placed, subsequent online orders or revisions can be made, however, there is a no refund policy for purchased meal tickets. At no time will graduates be denied the maximum number of tickets.
Each graduate will be allowed eight (8) guest tickets. Graduates in their academic regalia do not need a ticket.
Students who need additional tickets to official ceremonies are encouraged to ask classmates, who do not need all tickets, for any extras. Students are expected to make these arrangements themselves.
Important: Fulfillment of ticket requests is contingent upon full clearance to graduate, which is determined by the Office of the University Registrar. Should you fail to meet graduation or participation requirements, we will not be able to satisfy your ticket request.
If you haven't already, please make you visit the Out of the Forest website for additional information on what you need to be thinking about now, as well as learn about what resources are available for you after you leave Mother So Dear.
---
Your April Checklist
Submit the Name Pronunciation form
All graduating seniors (College BA and BS candidates) are asked to fill out the name pronunciation form by April 15. Students can access it via WIN, under the "personal" tab, then "record your name." This will ensure that the graduate's name is pronounced correctly during the commencement ceremony.
Tie up any loose ends with financial aid
Schedule your exit interview with financial aid if applicable. Also, be sure to pay any fines or other financial debts on your student account. Your account must be cleared before graduation.
Create your alumni email account
Sign up for your alumni email account that you will be able to take with you wherever you go.
---
Your May Checklist
Ticket Pick-up
All graduates who registered for meal and/or guest tickets must pick up their ticket packet in person on either Friday, May 12 or Saturday, May 13. You will need your student ID to collect your ticket packet.
Check your email often!
The Office of the University Registrar will be sending you emails that contain important information and instructions as the graduation ceremony approaches. Read these carefully and respond appropriately!
Have a cleared account
This will be your last chance to pay any fines or financial debts on your student account. Your account must be cleared before graduation.