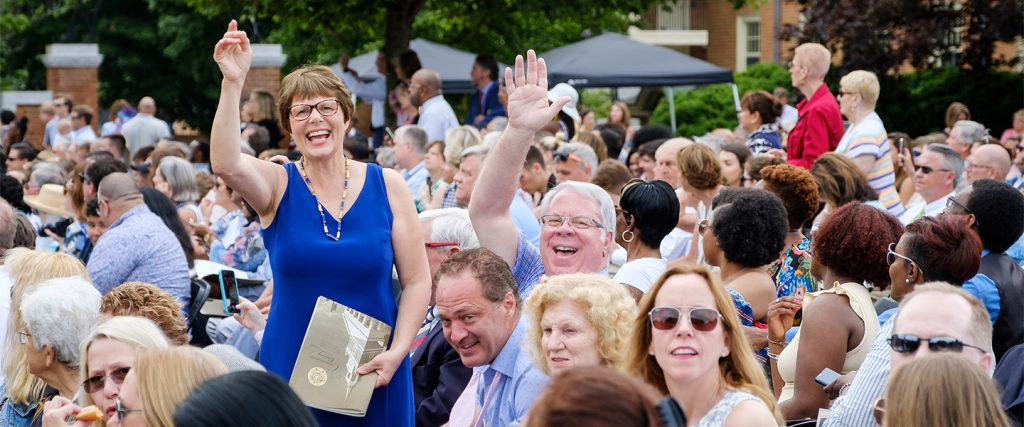 General Information
The Commencement ceremony lasts approximately three and a half hours and is held outdoors on Hearn Plaza. Temperatures in May can vary widely, so check the local weather forecast.
Arrive early. Due to security measures, there may be lines to enter Hearn Plaza. Please limit the number of items you bring; all bags will be searched. Coolers are not allowed; water and other beverages will be available for cash sale.
Restrooms will be available in Benson University Center, Reynolda, and Wait Chapel. The Benson Center facilities are wheelchair accessible. Executive portable restrooms will also be available.
During the ceremony, the center aisle and the platform will be closed to all except those in the processional. Please observe the rope barricades.
You may wish to bring a bottle of water or other drink with you. There are water bottle refill stations in Reynolda Hall, so you can replenish if needed.
You can purchase drinks on the Quad, but they will be cash sales only (no credit/debit card).
---
To-do Checklist
Make hotel reservations
Contact information for preferred hotels can be found on the Wake Forest University About site. When you contact a hotel, let the hotel associate know that you will be attending the Wake Forest graduation. Many hotels have set aside a block of rooms for graduation guests.
---
Reserve your tickets
Discuss Commencement Weekend ticket needs with your graduate and other family members and determine the final number of tickets you will need prior to your graduate registering for tickets.
Online ticket registration opened March 1.
Students needing additional tickets are free to ask classmates who do not need all tickets to share extras. Students need to make these arrangements themselves.
---
Make sure your graduate completes the Name Pronunciation form
All BA and BS degree recipients who will march in the May graduation exercises are asked to complete a voice recording of their name and fill out the name pronunciation form. This will ensure that your graduate's name is pronounced correctly during the commencement ceremony.
The form should be submitted by April 15.
---
Know what to expect before you arrive
We've provided parking and arrival information for our guests. This information may change before the event, so please be sure to check back before you arrive on campus to make sure you're familiar with any policies and guidelines we've made updates to.
For those who need accessibility support or accommodations, please review the accessibility information page for details.
---
Check the Commencement website often
Keep checking this website for details including the weekend schedule, ticket registration, and parking information.